[vc_row][vc_column width="1/1″][vc_column_text]
TDR VOS Slick EQ

TDR VOS SlickEQ is a mixing/mastering equalizer designed for ease of use, musical flexibility and impeccable sound.
Three (and a half) filter-bands arranged in a classic Low/Mid/High semi-parametric layout offer fast and intuitive access to four distinct EQ modes, each representing a set of distinct EQ curves and behaviors. An elaborate auto gain option automatically compensates for changes of perceived loudness during EQ operation. Optionally, SlickEQ allows to exclusively process either the stereo sum or stereo difference (i.e. "stereo width") without additional sum/difference encoding.
In order to warm up the material with additional harmonic content, SlickEQ offers a switchable EQ non-linearity and an output stage with 3 different saturation models. These options are meant to offer subtle and interesting textures, rather than obvious distortion. The effect is made to add the typical "mojo" often associated with classy audio gear.
Mellowmuse EQ1A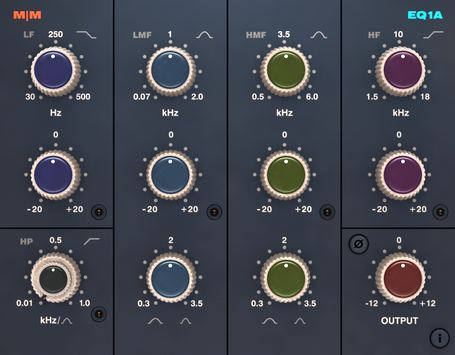 EQ1A is a super smooth, analog style equalizer plug-in, with minimal phase coloration. It features a high pass filter with variable Q, frequency sweepable low and high shelf filters, and sweepable low and high peak filters with variable Q. A bypass switch is available in each filter section for increased flexibility.
The interface takes it's inspiration from classic outboard eqs, with all controls in easy reach. The CPU efficient design allows high instance counts, making it a versatile EQ for all tasks.
MEqualizer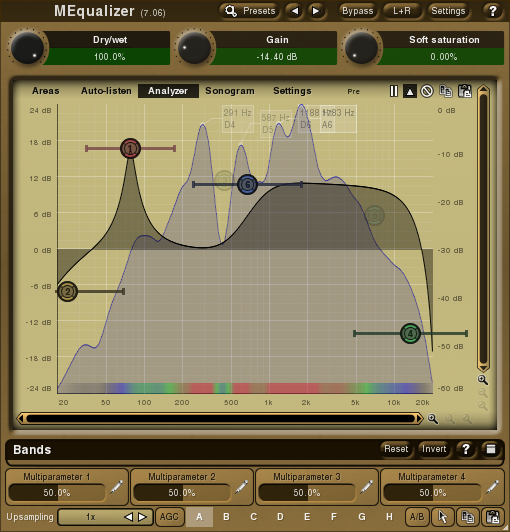 Melda Production offer this feature packed and slick looking EQ, a stripped down version of their powerful MAutoDynamicEq. It has a spectrum analyser, a saturation slider, customizable GUI and a frequency / drums / octave map graphic. There are 7 filters for each band: peak, low-shelf, high-shelf, low-pass, high-pass, band-pass, notch, and 8 different channel modes.
NyquistEq
Built by Smart Electronic's this is a Parametric graphic equalizer with excellent response all the way up to the Nyquist frequency. In other word's it handles well at the top end and won't click and pop when sweeping through frequency's.
SonEQ

The SonEq made by Sonimus is based on vintage analog EQ's with a Pultec influence clearly present. It has a nice drive, bass booster feature and a pre-amp section. Good for saturation and adding some colour to your track's.
ColourEQ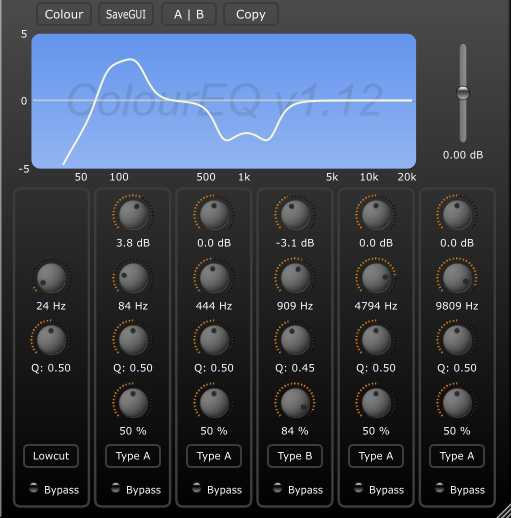 Developed by DDMF the ColourEQ became freeware in 2012. This flexible parametric EQ allows you to resize the window and change the GUI colours. It comes with five bands of "super parametric" peaking filters, which means that there is one more parameter in addition to the traditional gain/width/frequency set that can influence the curve shape. The company says these shapes cannot be reproduced by ordinary IIR equalizers.
Blue Cat's Triple EQ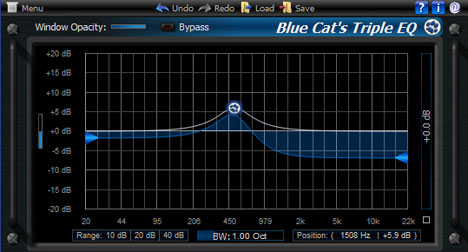 Blue Cat's Triple EQ is a 3 band semi-parametric equalizer that can be controlled like a single filter with customizable shape. It can be controlled in real time with MIDI or automated without any latency or side effect's. They offer a Pro version in their Parametr'EQ series with more band's and feature's