[vc_row][vc_column width="1/1″][vc_column_text]
Lepou Hybrit

The LePou Hybrit is a guitar amp simulation based on two classic "Marshall" amp's. This plugin has a really nice sound and a great looking GUI. You can also find several other Freeware amp's on their web site.
Voxengo Boogex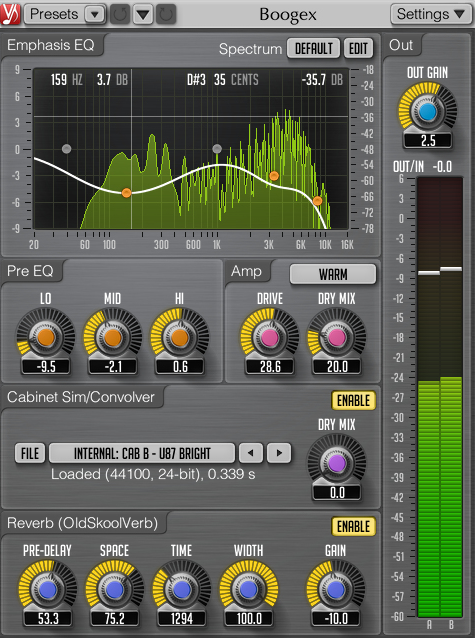 Boogex is a guitar amplifier plug-in with a variety of sound shaping features for professional music production applications.  With Boogex it is possible to get a heavy distorted sound as well as slight "jazzy" saturation sound. Boogex is also able to apply any speaker cabinet impulse response (selection of built-in impulses is available).
The processing latency is close to zero making it possible to use Boogex for real-time guitar processing.  Boogex also includes reverberation module derived from Voxengo OldSkoolVerb reverb.
Additional speaker cabinet impulses can be downloaded here.
Voxengo Tube Amp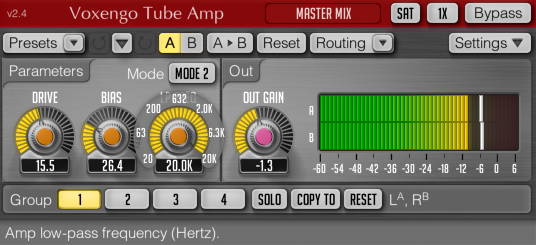 Tube Amp is an audio effect AU and VST plugin that applies asymmetric tube triode overdrive usually found in single-tube microphone pre-amp boxes.  The sound this plugin produces varies from a mild "warm" overdrive to a fuzzy distortion.
Tube Amp also includes a -6 dB/oct low-pass filter that is built-in into plugin's tube/valve modeling equation, and can be used to imitate a lower-quality tube triode.  Beside that, Tube Amp has a switchable output saturation stage which can be used to additionally overdrive the output signal.
Tube Amp features all standard advanced Voxengo plugin features like full multi-channel operation, channel routing, built-in oversampling and other functions.
Ignite Amps
Released in late 2013, NadIR is a freeware guitar cabinet IR loader plugin developed by Ignite Amps. The plugin works at zero latency with low CPU, so it's a great tool for tracking and live performances. They have another 8 different amp simulation's to chose from on their site.
Guitar Rig 5

Native Instruments offer this free version of Guitar Rig. Offering 17 cabinet emulations, 13 effects and various sound modifiers this is one of the most powerful freeware effects you can find. You can also drag and drop components to the rack to create your own custom effect chains. This is not just great on guitar's it also work's on vocal's, bass and just about anything else you throw at it. As always with this company the sound quality is top notch.
Studio Devil British Valve Custom
Studio Devil British Valve Custom is a British High-Gain Amp emulation based on Marshall® stack. While not as flexible as some of the other plugin's available it cranks out a nice chunky tone. As always these plugin's work great on other material.